Un dimanche à la campagne
Cottage France

5/6 pers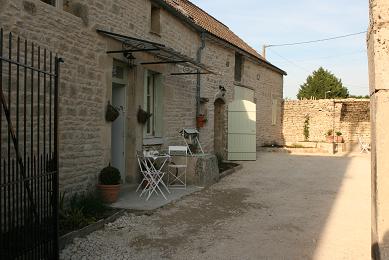 "Le bonheur est dans le pré, cours-y vite, cours-y vite, Le bonheur est dans le pré, cours-y vite. Il va filer."
Paul Fort

This is in burgundy that were built the most beautiful abbeys (Fontenay, Cluny, Citeaux), erected the most magnificent basilicas (Vézelay, Tournus). Land of gastronomy, the most sumptuous dishes alongside the best wines.

Canal de Bourgogne, casual and bucolic, ancestral vineyards of Chablis and Tonnerre, beautiful renaissance castles (Tanlay, Ancy le Franc, Maulnes) make our region a unique home.

A country road, a small village perched on a hill below a chapel in lavas from the thirteenth century, a bridge from XIV under which flows the Armançon serve as a framework for a single house, the discreet charm, traditional and a house where passing guests come to share the good life in a combination of comfort and authenticity in an atmosphere where every detail has been cared for and where special attention has been paid to the decoration has been done to decoration.

At the pace of agricultural work on farms nearby, from hay-make to harvest, you will enjoy picnics beside the water, naps on the grass and dinner in the courtyard.

With the approach of the great frost, you'll like walking on simple walks where landscapes bring new colors and aromas of underbrush and roasted chestnuts and will enjoy a good fire, with time to do nothing, as many simple joys shared with family or friends.

Happiness is in the meadow ......


Happiness is in the meadow "Le bonheur est dans le pré"

Un dimanche à la campagne
15 rue Saint Georges
89,160 Pacy sur Armançon
Tel : 06.
mongiteenbourgogne@hotmail
www.mongiteenbourgogne.fr
Booking lodging of France:
Tel 03.86.72.92.15
fax 03.86.72.92.14
E-mail : gites@tourisme-yonne.com
website : www.gites-de-france-yonne.com